The story of the installation of a huge steel sculpture, with the artist heavily involved in the process.
Can't miss this art
A 171/2-ton sculpture is installed on the Parkway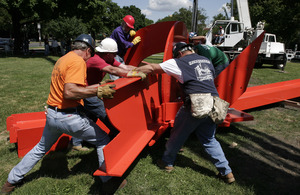 June 23, 2007, ...... Sculptor Mark di Suvero, apprehensive, 30 feet in the air, swung the forklift around and then slowly down; as he did, a massive crane lifted three tons of red-orange steel and gently, guided by five straining workers on the ground, moved it slowly into place. ....
Di Suvero's friend of 50 years, collector and humanitarian activist David N. Pincus, 81, was thrilled too, as he looked on. ...
Pincus is the man responsible for bringing Iroquois to Philadelphia. ...
Pincus .... last year acquired Iroquois for the Fairmount Park Art Association, which will own and maintain the work. (It is not known what Pincus paid for it; the piece was appraised for $1.3 million in 2004.)
"This is not an Eakins," di Suvero said, smiling. "It will not be sold. It's staying."
It is also by far the largest public sculpture installed here in recent years - it tops out at 40 feet and weighs 171/2 tons - and among the most prominently placed abstract works in the city. .....
Di Suvero, who lives in New York, is a card-carrying crane operator. He cuts his own steel - an oddly delicate process that takes that "special kind of time." He speaks the language of both union members and museumgoers. And even though this is the fourth time he has installed Iroquois, created in 1983, he was completely attentive to every detail and bit of engineering. ....
"The beauty of this is that he's doing this thing himself," Pincus said, watching di Suvero pick up a welding tool and mask, and prepare to fuse Iroquois to footers set in the green ground on the Parkway. "He's not telling anyone else to do it." ....