-
Art Lounge
(
http://www.sculpture.net/community/forumdisplay.php?f=17
)
- -
Forum
(
http://www.sculpture.net/community/showthread.php?t=11653
)
| | |
| --- | --- |
| raspero | 07-24-2014 05:20 PM |
---
Re: Forum

And totally cool.

Richard
| | |
| --- | --- |
| grommet | 08-10-2014 01:17 PM |
---
Re: Forum

love the miniature room concept with the imbedded "crime scene" to unravel. :)

thanks Mack, Underfoot for the comments. I do, in fact work from a pencily sketchy drawing that I capture as faithfully as I care to. That's the fun part, interpreting the scribble. :)
| | |
| --- | --- |
| raspero | 08-10-2014 05:26 PM |
---
Re: Forum

This seems to have become the general discussion, show and tell, thread so here goes:
I poured her on Thursday.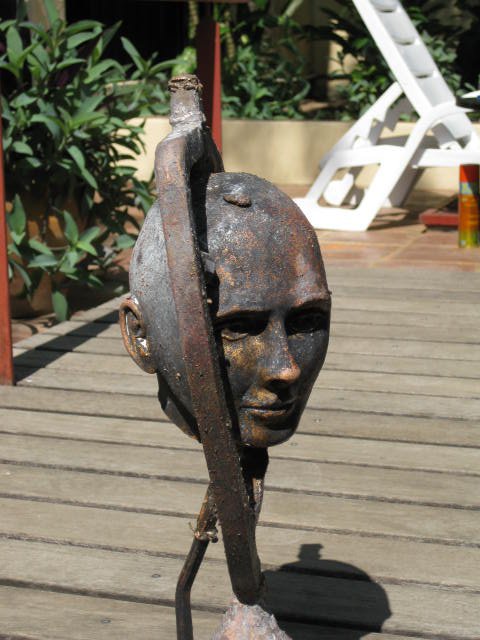 Here is her investment: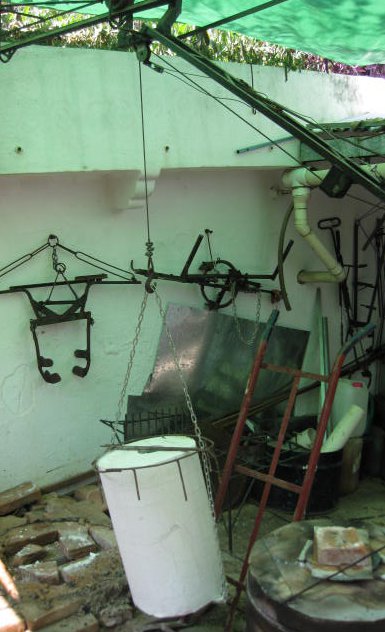 To invest her I first brushed on my de-bubbler (dishwasher propylene glycol and water—I think it's called Crystal Clear); then two coats of plaster/silica flour/water mix, then the same with some fine sifted sand added. Then the investment of 1/3 plaster and 2/3 sand/ludo mixture.
I burned her out at 1200 F for 42 hours. There was still a tiny bit of gray investment when I busted her out, which is wax residue not burned out. It was in a place where it did not matter. I got no bubbling when I poured.
I have found over the years that everything I read about burn out times is way under rated. This investment was 14 inches dia. and 22 inches tall. Most of the books say to burn something this size out for 24 hours or so. No wonder people have so much trouble with lost wax investment casts. A man I hold as my mentor who has done over a thousand of these casts burns his out at 900 F for seven days. Here he is at work: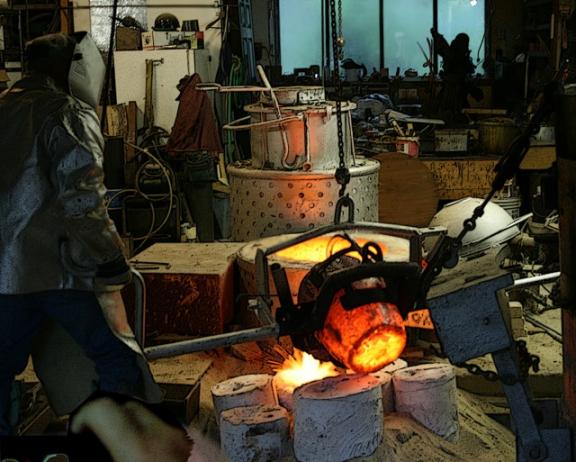 and some of his work: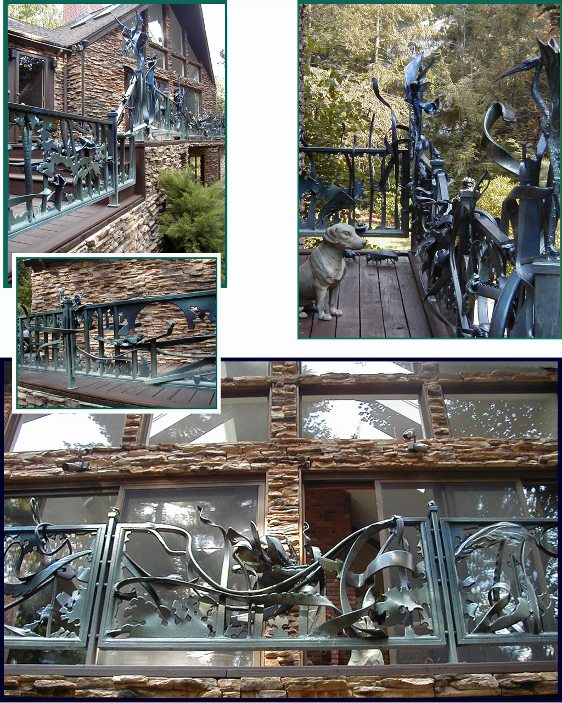 Richard
| | |
| --- | --- |
| mantrid | 08-11-2014 04:06 AM |
---
Re: Forum

A very nice looking piece. I love the look the oxidation has created. I think I would be tempted to just cut off the sprues and leave it like that. Maybe add a bit of verdigris in the recesses
| | |
| --- | --- |
| raspero | 08-19-2014 05:25 PM |
---
Re: Forum

I have invested her torso and it is in the burn out kiln at 1250 F.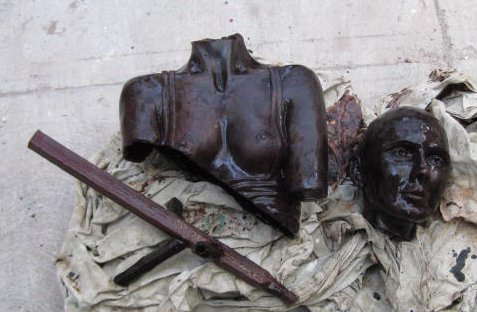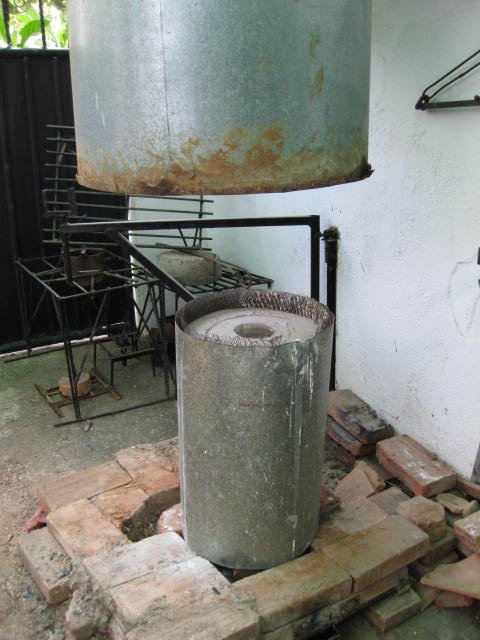 Pouring is scheduled for Thursday.
Richard
| | |
| --- | --- |
| raspero | 08-22-2014 06:01 PM |
---
Re: Forum

Just poured: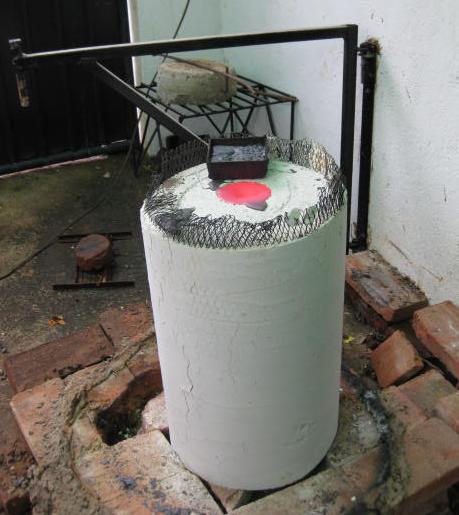 The result after hosing off the investment: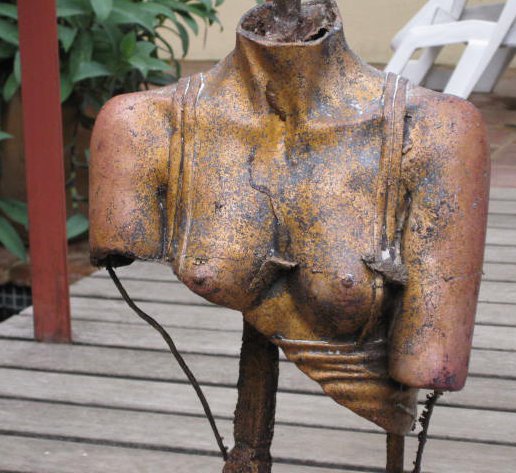 Some flashing and some scabbing. Fortunately most all of the scabbing is on her back in areas that will be covered by her braids anyway.
I learned something else with this pour:
I brush on several coats of investment, beginning with plaster and silica flour for the first coat. What I learned here, in no uncertain terms, is that if I am going to brush on only a thin layer then I had damn well better pour the investment before the brushed on layer sets up or I will get some scabbing. The alternative, which I usually do, is to brush on about 1/4 inch of investment and let it set. That 1/4 inch is too thick to scab. I brushed it on her head thin and it came out great, but her head was already in place to pour the investment and no time was lost. With her torso it took much longer to get it ready to pour the investment.
Anyway, I have a usable casting. Just needs a bit of work.
Richard
| | |
| --- | --- |
| raspero | 08-28-2014 05:34 PM |
---
Re: Forum

I am in the process of welding her head on and welding up a few of the defects.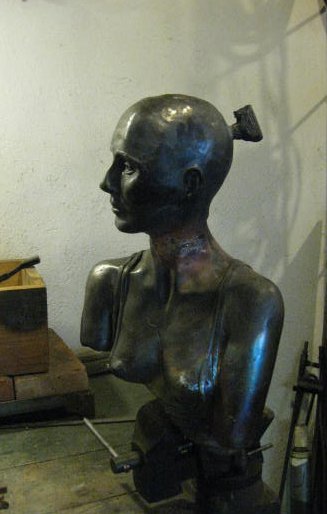 ---
Re: Forum

20" Glass and Metal Spider
| | |
| --- | --- |
| raspero | 08-29-2014 05:33 PM |
---
Re: Forum

Very great, Duck. It really says, "Coming to get you."

R
---
Re: Forum

Thanks Richard....
Similar items are available for purchase on Etsy ...type in emperors glass on the search bar. Also @
www.lawrenceduckworth.com
| | |
| --- | --- |
| Blake | 08-31-2014 05:44 AM |
---
Re: Forum

Interesting thread, would not want to think that this forum is past its' prime but that is most likely the reality.
Learnt a lot here and I am very grateful to all the members that helped me out.

In turn I tried to help others but now don't have much time
The other social media sites bring some returns that this one does not, but this site has got many quality personalities that you can appreciate and rely on for a diverse set of opinions and ideas.

It has been a great place to post ideas and get feed back

My problem is that I just don't have any more time to spend on the net, with Facebook, Google+, Pintrest and the blog that I post every 4-5 days on my site. I'm done.

The advantages of all that social media is becoming apparent but the type of self promotion required I find a weird thing to do...

In any case this site is great for feed back and meeting others, it is not good for posting photos and it should be... so it falls down there big time.

But the crowd is great and I enjoy all of you, even the ones that I don't enjoy!

Hang in there because only we can keep this puppy alive!
Cheers Blake
All times are GMT -5. The time now is

11:33 AM

.
Sculpture Community, Sculpture.net
International Sculpture Center, Sculpture.org
vBulletin, Copyright ©2000 - 2021, Jelsoft Enterprises Ltd.
Russ RuBert